In my long years of woodworking, I've seen many struggles with the task of screwing in the perfect hinges. Well, I'm here to tell you that it doesn't just have to come with experience. Save your tools and yourself the trouble by looking into self-centering drill bits.
How does it work, you ask? Hopefully, by the end of this review, you'll find in-depth about the best self-centering drill bit, but they basically center themselves.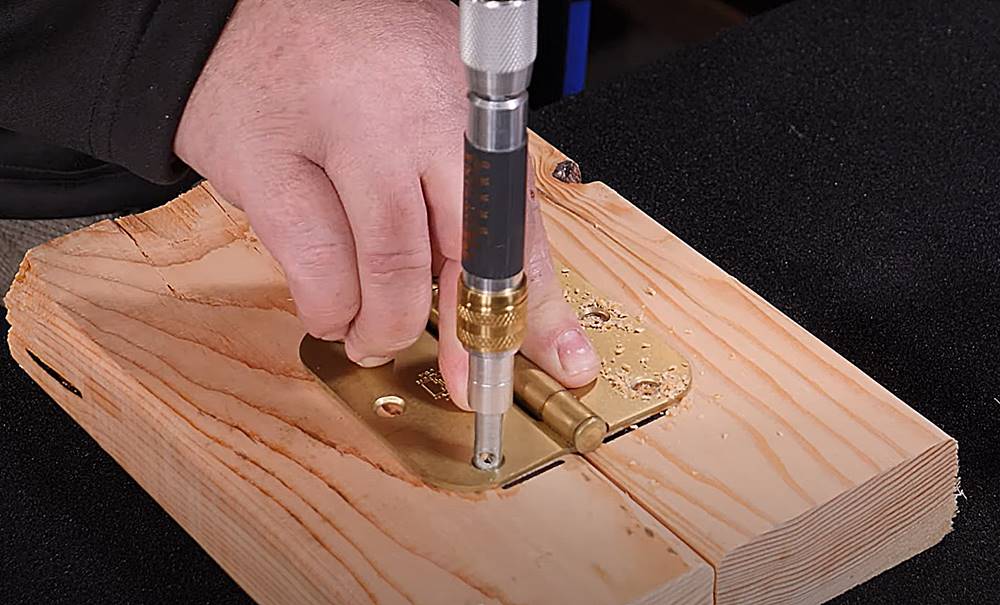 They have holes on the side of the spring-loaded barrel to clear away wood chippings to give you a smoother and cleaner finish on the surface.
5 Best Self Centering Drill Bit Reviews
One of the finest advancements in the carpentry and home improvement scene, self-centered drill bits make hinges perfect all the time.
1. Bosch Clic-Change Self-Centering Drill Bit
A titan in the woodworking industry, Bosch never disappoints as this bit from their self centering line gets the job done quickly and easily.
These products are nothing without precision, and this offering from Bosch is nothing if not precise. Arbitrary issues like bit walking are now a thing of the distant past as this bit delivers excellent precision with every turn of the screw.
The spring-loaded functionality of the item means that it only drills when you want it to drill.
These bits are specifically designed for the easy swapping, as it has the clic-change feature. The quickness means that you can swap out drill bits even with one hand.
Moreover, the sturdy build means that there won't be any wobbling or drill-walking when you're drilling in those hinges. Despite the spring-loaded mechanism, the bit itself is stiff and stable and will easily last a long time.
While these aren't the cheapest items on the market, they'll go a long way if working with hinges is something you're looking to do long-term. A bit more spent on these bits might end up saving you a lot more. Here is a list of the best drill bit for installing cabinet hardware like hinges, doorknobs, and handles, etc.
Pros
• Excellent build quality
• Easy to swap
• Long-lasting
• Reputed brand
• Universal Fit
Cons
• A bit pricey
• Crude and simple looking
2. QWORK Vix Bits Self Centering Drill Bit Set
This is a robust set of drill bits for the carpenter that favors adaptability and finds himself needing more options.
When you're working with wood, you won't always find it adhering to industry standards. That's when you'll want this set of seven self centering drill bits from QWORK. Precision isn't something you'll have to worry about when you have the set.
This bit fits onto any chuck with the usual quarter-inch-long shank, and the clic-change system makes swapping even simpler. Being able to switch out, load, and release bits on the go was never this easy!
While the bit is made of high-speed 4241 rated steel, the build quality doesn't stand out in the crowd. The occasional driller will find himself completely at ease with this. And the shell that houses the spring and the bit is made of an aluminum alloy that feels sturdy and durable.
It's not very common to get such a variety of sizes and bits in this price range, but this set is an exception in this regard. A group of seven self-centering drill bits for hinges for this price is nothing short of a steal.
Pros
• Variety in sizes
• Budget-friendly
• Compatible with most drills
• Professional looking finish
• Good materials
Cons
• Not the most durable
• Tips aren't beveled
3. Big Horn 5mm Self-Centering Bit
Big Horn goes big with this little bit that'll serve you well when you've got a lot of hinge holes to drill. Designed for use with a pin jig, this offering from Big Horn makes sure that you get through your work with no headaches. This bit excels when you need accuracy and minimal chipping.
Compatibility is nothing special with this drill bit as it follows the carpentry standard of fitting onto a quarter-inch hex shank. However, it does not bring the clic-change system with it, so a bit more effort will go into the changing process.
The built quality on this bit isn't the best you can find out there, but it's not the worst either. It'll do its job when you're drilling through those shelves.
I personally had to use a bit of wax to get the spring to feel as smooth as I wanted it to. But, it isn't something most users will have to worry about.
When you're looking to drill through shelves on a budget, that'll do just fine, but if you want to get more work done, I recommend looking around a bit more. Finally, this offering from Big Horn is somewhat expensive when all you get is a single drill bit.
Pros
• Accurate 5mm holes
• Excellent for shelf pins
• Compatible with most drills
• Removable bit for sharpening
• Minimal to no drill walking
Cons
• Pricey for one drill bit
• Not the best build quality
4. Snappy Tools Self Centering Hinge Drill Bits
When you're drilling those pilot holes, Snappy Tool's products live up to the expectations.
Snappy Tool's specialty drill bits come in a set of five to ensure that you can make precise holes when you're working with different kinds of hinges.
These additional options let you take accuracy to whichever type of hinge hole you need. Drill walking is no longer something you have to worry about with this set of bits.
These bits' design has been explicitly machined to fit with Snappy's chucks with quick-change features, but they come with a standard quarter-inch hex shank. Consequently, most drills will be compatible with this.
In particular, the nose bushing of this product is spring-loaded and designed for longevity. The barrel is knurled so that any stray wood chippings are cleaned easily.
These bits corner the market with their great value by striking the perfect balance between features and affordability.
Pros
• Variety of sizes
• Good value
• Durable and sturdy
• Well built
• Highly compatible
Cons
• Not the cheapest
• Springs might give in with long term use
5. Vix-Bit 9VIXBIT Self Centering Pre-Drill Bit
You might only be getting one bit with this offering from Vix, but you really won't be asking for more.
Designed to work for anything that needs screws, this item will ensure that your pilot holes are straight and true. Accuracy becomes a secondary concern if your goal is to drill precisely for 9/64-inch hinges and screws.
Coming stamped with Vix's excellent track record in the market, this bit is no slouch when it comes to compatibility either. While it's compatible with most commercial drills, it's always a safe bet to double-check with the model of your machine.
The build quality expected of a top-quality brand like Vix is. And the high-speed steel and quality parts don't leave much to be desired.
While it may seem a bit on the expensive side, considering you're only purchasing a single drill bit, that's the price you pay for quality and reliability. This product delivers both of these characteristics in abundance.
Pros
• Reputed brand
• Accurate when drilling
• Little to zero drill walking
• Excellent build quality
• One size fits three screw types
Cons
• Slightly expensive
• Compatibility needs to be checked
Buying Guide – Self Centering Drill Bit
All of this information might feel overwhelming, but as long as you follow these few steps, you'll be drilling in no time.
Compatibility
One of the most important features of any drill bit is whether it goes on to your drill easily. The quarter-inch hex shank is an industry-standard, but specialty issue bits have different chuck requirements. While most of the products on this review fit the standard, it still never hurts to double-check and make sure.
Bit Size
Always keep an eye on your requirements because you don't want to buy a ⅜ inch bit for hinges that might require larger or smaller bits.
We've all been there, and the frustration of not having the proper equipment for a project isn't even worth it. So, make sure that you have the right understanding of the equipment you'll need and consider your drill bits accordingly.
Frequency of Usage
Recognize the fact that you might be buying drill bits that are way better specced than you need.
If you only ever need to drill and screw a hinge joint occasionally, then there really is no point in purchasing a drill bit that's going to make you pay extra for durability. Consider your options wisely. Additionally, you might need the impact driver bits for installing the screws.
FAQs on Self Centering Drill Bit
Do self centering drill bit come with replacement bits?
Some of the offerings on this review come with removable tips, some come with removable and replaceable tips, while others sport fixed tips.
What if my drill bit gets clogged up with wood chippings?
An Allen wrench can dismantle most of these drill bits. After opening them up, removing the wood chippings is a simple task.
Are self centering bits easy to use?
They certainly are if you know what you're doing. Look up a guide or tutorial for your specific tool, and don't forget to use proper safety measures!
Can I use self-centering bits to drill through concrete?
These drill bits are mostly engineered to work with wood and steel. Concrete surfaces and materials will require tips made especially for working with concrete.
Are the bits tapered or straight?
The drill bits on this review are more often than not tapered, but I would recommend you refer to their manuals for exact information.
Final Words
These options may seem dizzying, but with a bit of time, effort, and conscious purchasing, the only things that'll be spinning are the screws into your hinge. Hopefully, reading this review gave you an idea of what the best self-centering drill bit is.