Hex shank is the most common drill bit used by professionals. You'll see it being used mostly in cordless drills. They are called hex shanks due to having six-sided shanks. It allows them to be held tightly in place with greater torque.
Also due to this, the hex shank can work with materials like hard metal with very high resistance. They are mainly designed for use with screwdriver tools with a hammer mode. They can also be used for constructing or disassembling furniture.
In this article, we'll discuss some of the best hex shank drill bits and also ways to pick the best ones with our buying guide.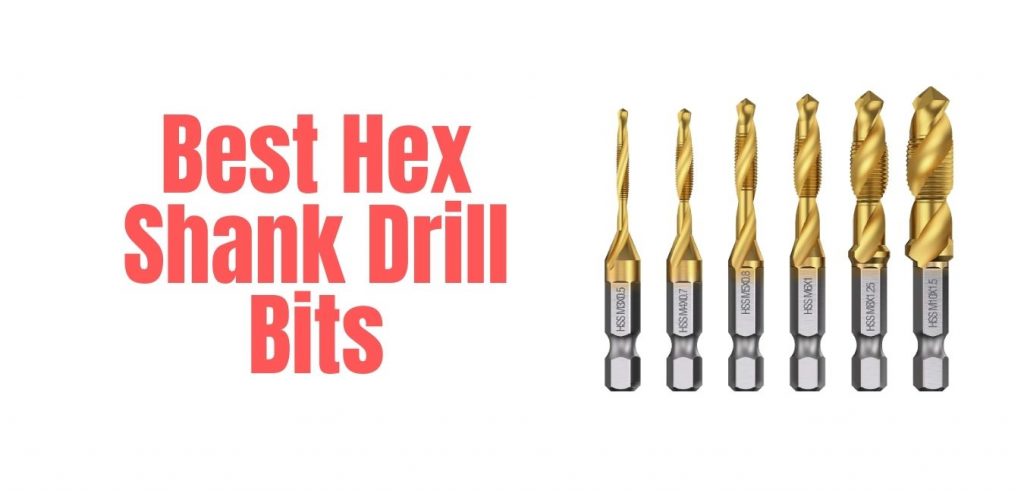 Best 5 Hex Shank Drill Bits Reviews
We've selected some of the top hex shank drill bits on the market for your consideration. Have a look!
1. COMOWARE Titanium Twist Hex Shank Drill Bit
Comoware drill bit set has 13 different sized bits with a size range from 1/16 inch to ¼ inch. With an affordable price tag, you get a quite decent amount of bits all at once.
Besides, all of them are made with high-speed steel with a coating of titanium. They feature a split point tip and twist design for the smoothest and clearest of holes.
In addition, the drill bits also keep the chip clear and prevents debris from forming due to their 2 flutes design. This also ensures better durability and a sharp cutting edge for a long time. It decreases the friction with the heat on the impact drill, keeping it a lot cooler than you'd expect.
More importantly, the ¼-inch hex shanks let you fit all of them easily and most securely into all power tools. The quick-change adapter also allows you to have a better fit without worrying about losing shank.
The set also comes with a holder making organizing a lot convenient.
Pros
High-quality HSS construction with titanium coating
Suitable for drilling through wood, plastic, and metal
Comes with an organized holder
Size ranging from 1/16 inch to ¼ inch
2 flute design for clearing chips
Cons
Sometimes the smaller bits tend to wobble when put into a drilled shank
2. BOSCH IMC500 Multiconstruction Drill Bit Set
Another great hex shank drill bit on our list is from BOSCH. This multi-construction drill bit set features 5 drill bits each about six to seven inches in length.
Equipped with a carbide head, its sharp ground-cutting edges let you drill through many different materials.
All of the bits share the same quality of durability and strength. These bits have a good length and let you drill up to three inches into hard concrete, bricks, stones, and others.
Moreover, you can also apply them even on tiles and mortar.
With unique steep flutes to help with the penetration and elimination of dirt, these versatile bits also fit the 3-jaw chuck on a hammer drill due to the hex shanks. You can use them on both hammer drills and drivers both.
Pros
Uniquely built steep flute reduce friction
Can drill through many different surfaces
The hex shanks make it more versatile
Sharp cutting edge and carbide head increases productivity
Cons
Doesn't come with any container
3. Amoolo Hex Shank Drill Bit Set
One of the most versatile hex shank drill bits kits is from Amoolo. It features 16 pieces of the drill bits. You'll be surprised to find even minuscule sizes like 3/32-inch and 1/16-inch.
Coated with titanium to enhance resistance and durability, the Amoolo sets are manufactured with HSS. They are way tougher than regular HSS found in other drill bits.
However, it will be wise not to get over-excited and use these bits to drill glass, ceramics, HSS, or heat-treated steel surfaces. Other than these they work perfectly fine on wood, aluminum alloy, stainless steel, cast iron, and other soft metals.
The bits in this set have a twisted groove design that helps you clear debris and reduce friction by stabilizing them. In addition, the 135 degrees split point allows you precision drilling as well.
Pros
Features a 16 piece set containing most used bits
Premium titanium coating
Very hard and durable
Cons
Cannot be used on hard metal surfaces and glass
4. DEWALT Hex Shank Step Drill Bit Set
This uniquely designed drill bit is also known as a step bit that can cut holes in a material using successively increasing steps.
Everything about this titanium finished item speaks of power and excellence. It has been specially made for metal surfaces where you can create larger and larger holes.
Capable of producing from /8-inch to 1-1/8-inch rounded holes, it works wonders when it comes to installing LEDs or toggle switches into metal sheets.
DEWALT also features a spiral two-flute design that helps to remove material easily and providing a longer life at the same time.
This bit was made for impact drivers with a 1/4-inch hex shank. The laser-engraved measurements also come in handy for easy indexing.
Pros
Titanium finished two flute spiral design
Split point tip for increasing speed
Laser engraved measurements for easy indexing
Cons
The engraved measurements tend to disappear after many drills
5. BOSCH Clic-Change 3-Piece Self-Centering Drill Bit
If you've ever tried to drill together with a piece of predrilled hardware to something, you're probably familiar with the extreme challenge of precision drilling. The holes should precisely be in the exact position and if it is off to even less than a centimeter the whole hardware will shift.
But when you have a self-centering drill bit it sits into your hardware, attaches itself to the precise location, and keeps the drill bit at the dead center. It prevents the drill from shifting and makes a hole at the perfect center.
This self-centering drill bit from BOSCH is exactly the kind of item you're looking for. Featuring sizes #6, #8, and #10 diameters, these bits are frequently used by woodworking professionals.
And what's more! Its Clic-Change systems feature true one-handed load and release.
Pros
Precision drilling due to self-centering design
Made of alloy steel for professional use
Features Clic-Change system for swapping bits fast
Cons
Marking the depth to be drilled becomes difficult
6. BOSCH 40 Piece Set DDMS40 Hex Shank Bits
Coming to the end of our reviews, we have another outstanding product from BOSCH. It features a stunning 40 piece set that has every type of bit one will ever need in their professional life.
BOSCH covers almost all the needs of pros with a combination of square, Torx, Phillips along with bit holder, nut driver, and even drill bits!
This huge 40 piece set comes in a solid plastic box. And what makes it more amazing is that you can even remove each of the red trays from the box and use them separately.
Although it is a small touch to the overall design, still it makes accessing the bits a lot easier. Besides, you won't have to carry the entire box with you if you need only a few of the bits.
As for the drill bits themselves, they are coated with black oxide to provide lower friction and absorb high torque. Besides, the driver, as well as the drill bits, are impact rated providing you a longer bit life.
Pros
Provides all types of drill bits one needs
High impact rated giving extra lasting ability
Black oxide coating provides low friction
Cons
The bit markings are difficult to read
How to Choose The Best Hex Shank Drill Bits
We've shown you some of the best hex shank drill bits on the market with amazing durability and functionality. If you want to know what makes a drill bit great have a look at the following points.
Build Material
One of the most important aspects of choosing the best drill bit is to look for which material it has been made with. Most drill bits are usually made of tough metals like high-speed steel, cobalt, or carbide.
This material can influence how effective the drilling will be. For example, high-speed steel can be used to drill through metal surfaces which carbide bits cannot drill metal surfaces.
Titanium coating
When the drill bit is coated with titanium, one of the sturdiest metals on the planet, it lasts up to six times longer than even high-speed steel bits.
Durability
You don't want to choose a drill bit that will break down or will become dull only after a few uses. Choose an item that can withstand great impacts without wearing out.
Hardness rating
When you want a greater torque transfer from the drill bits it is known as the hardness rating. You might want to look it up while buying. Usually, the hardness ratings are written on the package.
Size of the bits
While you'll find different sized hex shanks on the market the most common one is the 1/4″ sized. Besides other popular sizes are 3/8″ and 5/16″.
Compatibility
It is also necessary to check whether the drill bit you're buying is compatible with the machine you have. Usually, hex shanks are always compatible with cordless impact drivers.
FAQs – Hex Shank Drill Bits
What is hex shank size?
The shank is the end of the drill bit that sits into the drill. It is secured by the chuck. When the shank is round it centers a bit in the chuck more accurately. But when it has a flat surface it gets a solid grip with the drill.
How do you measure a hex shank?
The hex shank means hexagonal shank since it has six sides. You can measure the diameter of the hex shank is measured through the center across any of the flat sides.
What is the difference between hex shank and straight shank?
Straight shanks are usually of the same size as the bit. They do not need dedicated chucks and have the accuracy to centering. These are mostly used with router bits and drill bits.
On the other hand, hex shanks have a hexagonal shape similar to the screwdriver bit. Due to this shape, you can use it to handle higher torque transmissions.
Can I use hex shank drill bits in a regular drill?
Yes. You can use hex shank drill bits in a normal drill chuck.
Conclusion
There you have it! Our top choices are for the best hex shank drill bits. Out of hundreds of options on the market, we chose these based on our criteria of durability, versatility, and overall quality. We hope you found the best drill bit of your choice here.