There is a wide array of specialty drill bits for various jobs but when you need to drill into a metal sheet you have to pick a step bit. It doesn't matter if it is concrete, steel, or wood the best step drill bit can pierce through almost anything!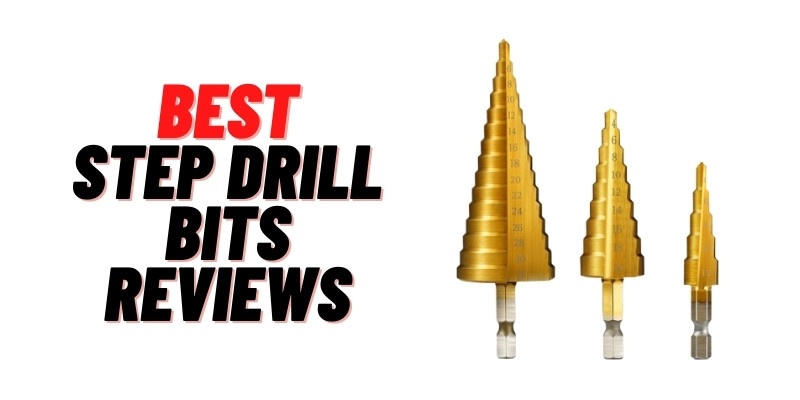 Step drill bits have a cone structure with different steps used to make holes of different diameters. Since the diameter gradually increases as you go down the bit with a stair-step profile, hence the name 'step drill bit'.
Ideally, step drill bits are used on construction sites to enlarge holes in surfaces like metals, plywood, drywall, and particleboard. This bit is also used for drilling carbon fiber, plastics, and deburring holes.
Quick List of Our Top Picks:
Reviews of Our Five Best Step Drill Bits
To make things easier for you we've picked the best step bits and reviewed them here. Have a look!
1. DEWALT Step Drill Bit Set (DWA1790IR)
Our first pick on the list comes from the most popular name in the electrical industry, DEWALT. While some drill bits are made for thinner sheets, this item from DEWALT can be used even against tougher materials.
Particularly preferred due to its capability to cut through stainless steel, everything about this three-piece set exhibits power and excellence.
Constructed with alloy steel and titanium coating, there's not an edge that you can find a fault in. Especially its two flute spiral design allows the chips to be easily removed along with enjoying a longer life.
Designed for multi-diameter hole drilling, the DEWALT step drill bit is an important tool when it comes to toggle switches or LEDs.
Another great feature of this set is that you can use both plastic and metal removing any need to change the bits too often. The bits also stay sharp for a longer period as well.
These step bits are extremely versatile and a must-have for any electrician. However, most DEWALT bits are used against DEWALT tools. So if you've already got one then you're in luck! However, any other rotary drill can make these work as well.
Pros
Alloy steel made with Titanium coating
Two flute spiral design
Doesn't wear out fast
Laser-engraved numbers
Cons
Are known to lose in walls
2. CO-Z 5pcs Hss Cobalt Multiple Hole Step Drill Bit
This compact set will fulfill nearly every size demands you have for step drilling. Besides, from a brand like CO-Z which has produced some of the most amazing drill bits, we can expect nothing less.
Each of the bits is made with sturdy and tough cobalt steel for maximum durability. On top of that, the added titanium coating also provides great strength. These well-made pieces will surely last for a long time even with heavy use.
Each of the bits offers you numerous incremental sizes ranging from 3/16 to 1/2 inches. The 5 pieces offer a total of 50 different drilling hole sizes, this is nothing short of incredible.
Another great feature is that the tips of these bits are designed in a way so that you don't have to worry about walking. They do their work fast in the smoothest fashion. So the result you'll see would be outstanding.
Besides the size of these bits are perfect as well. These five bits have all the major sizes you'll ever need in your drilling job.
And last but not the least, the set comes in a nice and sturdy transporting case. You can store them safely when you're not using them.
Pros
The non-slip design of the shank
Titanium coating provides extra strength
Offers 50 different hole sizes
Comes in a well-organized case
Cons
3. Neiko 10193A Titanium Step Drill Bit Set
This next product has many benefits to offer. This particular model from Neiko is a budget-friendly option that can be a go-to kit for any professional.
Constructed with rugged and sturdy steel with titanium coating, the bits ensure to last a long time without cracking or breaking. Besides, this combination also makes the bits extremely versatile and able to drill aluminum, steel, and other metal sheets.
The design of these bits is two-flute which helps clear the shavings and chips as quickly as their creation. Besides, this design also keeps the larger chunks away from building up near the tip.
Speaking of the tip, it has been designed with a 135-degree split-tip so that the cutting speed is improved. Besides, this construction also prevents the bits from moving away or walking. This is also known as auto self-centering of the bit.
As for the shanks they are tri fitted which makes them fit properly into the chunk without the risk of falling out or slipping.
However, the most important feature is the number of hole sizes these bits can offer you. Each bit of this set has multiple steps offering you 28 different hole sizes. See more a list of top titanium drill bits.
Pros
Works on a variety of surfaces and sheet metals
A very wide range of hole sizes
135-degree split point tip for walking reduction
Has a tri fitted shank
Cons
Can dull quickly on heavy-duty works
4. COMOWARE Step Drill Bit
This next item is a single-piece drill bit from COMOWARE, one of the leading drill bit producers in the industry. This isn't an item for professionals, for they usually require drill bit sets with many different sizes.
The bit was constructed with High-Speed Steel, as most drill bits are, with a Titanium Nitride coating. Both of these together offer outstanding durability to the bit while drilling holes on any metal sheet.
This unit offers you 10 different diameter sizes from 1/4″ at the top to 1-3/8″ in an increasing manner. Able to process holes in aluminum, steel, copper, and even plastic, these COMOWARE step drill bits are the perfect affordable option to have.
As for its tip, it has a 118 degrees split point tip which resists any wearing. Besides the two flute design also offers you a smoother and cleaner cutting.
Pros
Affordable unit for non-professionals
HSS Titanium coating construction
118 degrees split point tip resists wearing
Smoother cutting on any sheet metals
Cons
Not suitable for heavy-duty drilling
5. Milwaukee 48-89-9209 Electric Step Drill Bit
Our last item hails Milwaukee and honestly speaking it will exceed all your expectations for performance. The most unique thing about this bit apart from the rest on our list is the black-oxide coating which gives it an aesthetic look.
This bit stays sharp and saves your precious time by drilling fast. Its double flute design also helps the drilling to go smoother than average bits on the market.
When you've used it, the bit will result in the smoothest hole on any sheet metal. The bit's shank and the tip have been designed in a way to give you excellent control throughout the process. It will prevent walking and the shank from slipping.
What's interesting about the bit is that it alone has whooping 17 steps! This means it can offer you 17 different sized holes starting from 7/8" to -1/8".
This Milwaukee step drill bit allows the user to drill two times faster than any other bits due to the smooth finish and dimension size. Electricians love Milwaukee since it doesn't produce too much heat, and even if it does, some of the heat dissipates fast.
No matter what project you're on, this is undoubtedly a great choice for you.
Pros
Offers 2X speed than average bits
Extremely smooth finish
It alone offers 17 different steps
Doesn't overheat and saves electricity
Cons
Only two sizes are marked on the bit
How to use a step drill bit
Using a step drill bit isn't too different than using any other regular drill bits except in purpose. Most step drill bits require you to make a center hole first before drilling into the surface.
Let's review the steps in using a step drill bit in short below:
Step 1 – Mind your eye protection
You must protect your eye especially while drilling any metal sheets because the shaving produced from them is more dangerous than any other particle. So you must wear either goggles or safety glasses.
Step 2 – Make a center
Next, you'll need to mark the center of the surface you're trying to drill. Use a center punch to hammer a center hole or indentation. This indentation will act as the starting point for the step drill to work on.
Step 3 – Secure the bit into the chuck
Get the step bit you want to use and properly secure it into the holding place of the motor. You should also use a kind of cutting or tapping fluid as a lubricant to reduce the heat which might be produced while drilling metal.
Add a drop of the fluid on the indentation and to the tip of the step bit as well.
Step 4 – Place the bit and start drilling
This is where you finally start the drilling process. Place the step bit squarely on top of the center mark and depress the drill's trigger slowly.
Remember to use moderate pressure and start slow otherwise it might generate too much heat and the pressure may dull the bit prematurely.
Keep adding additional fluid drop by drop into the working surface and if you notice any smoke then stop drilling immediately. Let the drill cool off before starting again.
Step 5 – Replace with a larger step
This step is needed only if you need to make a big hole or have used a smaller step bit before.
Change the smaller step and chuck in the larger one. Place this new step into the hole and apply some more fluid to the hole and the bit and start drilling again.
Step 6 – Clean the drill when you're done
When you've reached the desired sized diameter for the hole, stop and release the large bit off of the motor. Don't forget to clean the shavings, dust, and water off of the bits with a dry rag.
FAQs – Drilling With Step Bits
How thick of steel can you drill with a step bit?
Step drill bits allow you to make holes of different diameters into tough surfaces like concrete, plywood, and metal sheets. Ideally, the best step bits can drill metal up to ¼" thick.
Can you use a step drill bit on wood?
Of course, you can! Step drill bits are not only used to make holes in metal sheets but also to enlarge or deburr previously made holes in wood as well.
Can you use a step drill on plastic?
In addition to steel and wood, you can apply step drill bits into plastic as well without any problem.
Can You Sharpen a Step Drill Bit?
You can sharpen a step drill bit with a bench grinder or a belt sander. Besides, you could also make use of coarse diamond if the bits are only slightly used.
Final Words
There you go! We've reviewed some of the best step drill bits available on the market in this article. We also discussed in brief detail how you can use them on surfaces, especially thin metal sheets.
We hope the information provided here will be of benefit to you and that you found here what you're looking for.
Happy drilling!