Very few things can bring work to a standstill like a stuck screw or bolt. Fortunately, there are tools to get you out of this hiccup. Using the best left-hand drill bits, people have escaped such conundrums.
Left hand drill bit is the indispensable first step to extracting a stuck bolt from any surface. What makes this tool different from the rest is that, unlike other drills, it moves counterclockwise.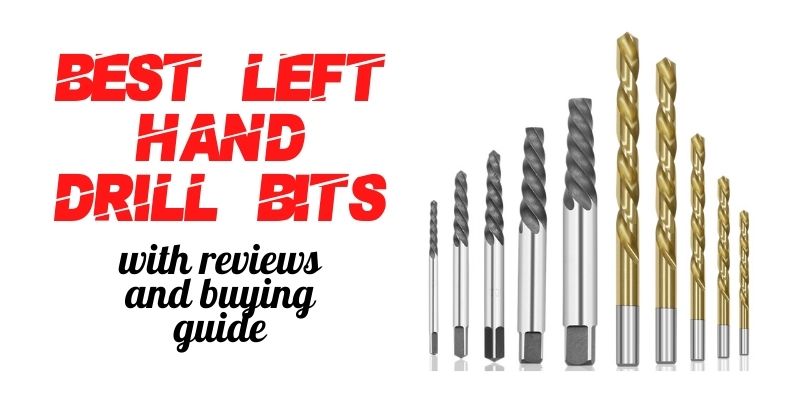 Also known as a reverse drill bit, it is almost identical to normal bits except that its flutes are designed in a counterclockwise manner which is opposite to regular twist drill bits.
What left hand drill bits are used for?
If you're a regular carpenter who needs drilling from time to time then we're pretty sure you've faced this situation: you're pushing through your work with great progress when suddenly snap!…the screw snapped leaving you at a loss how to get it out.
We understand the amount of frustration one might be going through during this situation. Such occurrences slow the project down delaying the preferred time frame.
To deal with this problem professionals use reverse drills with left-hand bits. With it, they remove broken or rusted fasteners and bolts by unscrewing them in the counterclockwise direction.
Our Top Picks Of The Best Left Hand Drill Bits
Since left hand bits aren't as popular and available as normal drill bits, finding the best one can be challenging. That's why we've rounded up some of the top ones to save your precious time.
1. NEIKO 01925A Left Hand Drill Bit Set
Kicking off our best drill bit reviews with this versatile set from Neiko. It is a left hand drill bit set of 10 pieces that will make any bolt or screw extraction a breeze.
Constructed with high-speed steel, all of the pieces are coated with cobalt which is an extremely tough material. Only a coating of cobalt itself is good enough to make the bits tough enough to drill and extract fasteners.
The sizes of the bits range from 5/64″, 7/64″, 5/32″, 1/4″, 19/64″. You pick the needed-sized bit to drill a hole inside a bolt or screw. Then pick the same sized extractor to extract it nicely and clean.
But the best feature of this set is the box where all the set comes in.
NEIKO screw extractor and left hand drill bit set comes to you in a solid and durable metal box with a carrying handle. All of the pieces are perfectly organized inside with clear labeling as well.
Pros
High-speed steel construction with cobalt coating
10 piece set with both extractor and drill bits inside
Features a metal box with a carrying handle
Each piece are clearly labeled
Cons
Some pieces tend to snap if drilling is started too fast
2. IRWIN Screw Extractor/ Drill Bit Set
Our next pick comes from Irwin. Anyone who is accustomed to drilling and its business is aware of this brand as for over a century it has been the hallmark of superior tools.
This 5 pair set includes five left hand drill bits and 5 extractors. The extractor flutes are constructed with an aggressive spiral design that helps them embed deeper into the bolt with each turn.
Besides, it also allows for extra gripping with increased resistance for faster extraction.
In addition, the left hand drill bits are very tough as they are not only made of high-speed steel but also coated with cobalt. You don't have to fear them cracking inside the bolt anytime.
With a large variety of tools for multiple situations, IRWIN provides you with greater versatility with sizes 5/64″, 7/64″, 5/32″, 1/4″, 19/64″. This is the exact size variations of our previous item as well.
Pros
Comes in a sturdy metal box with an index
HSS construction with tough cobalt coating
Aggressive spiral design for extra gripping
Cons
Doesn't dissipate the heat as expected
3. COMOWARE Left Hand Drill Bit Set
The previous two sets have been for regular DIYers. However, if you want something more comprehensive for your works at an affordable price then this set dom COMOWARE is a solid choice.
These 13 pieces left hand drill bit set has all the ideal measurements for extracting broken screws and bolts up to 3/8" diameter.
Constructed with M2 high-speed steel, these left-hand bits are coated with titanium nitride giving them excellent hardness and wear resistance. With this much strength, they can even cut through Grade 8 screws and truck frames like butter.
Not only that! The split point and twist design of 135 degrees of these bits will increase the overall cutting speed as well. You won't experience any walking either with these pieces.
Very affordable for anyone looking for a nice toolbox, this is a great addition for any professional or serious DIYer.
Pros
M2 HSS construction with titanium coating
13 piece set with all the important sizes
Excellent wear resistance
Includes a carrying case
Cons
The coating could've been thicker
4. Century Drill & Tool Left Hand Cobalt Jobber Drill Bit
Interestingly this is the only single big item on our list. Ideal for removing any broken bolt or stud with minimal effort, Century Drill & Tool's bit is an excellent addition to your toolbox.
If you want to remove a stuck and broken stud without much effort we'd suggest you get this one. This is a perfect product for occasional DIYers or one who is only looking for a one-time job.
Constructed with premium cobalt steel this unit is as durable as sturdy. Its 135-degree split point results in smooth drilling with easy cleaning of the chips.
This item comes in different shapes, so you can pick anyone according to your need.
Pros
Single piece item for one-time use
Quite durable and sturdy
Comes in almost all major sizes
Cons
5. IRWIN Left Hand Drill Bit Set
We round up our top five reviews with this five-piece set from Irwin. This is another item for regular DIYers for extracting any piece of broken bolt, screw, or stud from a surface.
The pieces have a 135-degree split point making them easier to penetrate the broken bolts. Constructed with M-42 high-speed steel with 8% cobalt content, these bits will provide better resistance than most other left hand drill bits on the market.
And guess what! You can even use these bits on soft metals! But the best feature that we love is the shorter cutting lips of these bits. This results in torque reduction while drilling in high-tensile-strength materials.
The chips are also removable very quickly due to the heavy-duty spiral flute design. Most importantly, the good combination of HSS steel and cobalt makes the bits sturdy enough so that higher RPMs don't wear them out easily. Here you find the best drill bits for broken bolts.
Pros
Split point of 125 degrees are easier to penetrate bolts
M-42 high-speed steel with 8% cobalt content
Have shorter cutting lips for torque reduction
Easy chips removal with heavy-duty spiral design
Cons
How to use a left-handed drill bit
Using Every left-handed drill bit isn't the same as regular drilling. Because the main reason for using this drill is to remove the screw or bolt, and not to stick it in.
With the method briefly mentioned below, there is a 50% chance that you'll be able to remove a stuck fastener without using any additional extractor. So let's begin:
Step 1 – Indent on the stuck bolt
Start with making the bolt as flat as possible with a file or by grinding. Then create an indentation with a hammer and a center punch on the broken bolt. Start by tapping the punch lightly at the middle of the bolt till a divot appears.
Step 2 – Select a left hand drill bit
You need to use a reverse drill machine for this to work. Also, make sure that the diameter of the drill bit is smaller than that of the fastener. Now place the tip of the bit into the indentation.
Step 3 – Start drilling
Now start drilling slowly into the indentation. Make sure to keep the drill aligned or vertical while doing this. Make the drill hole roughly two-thirds of the size of the fastener you want to remove.
There is a 50% chance that while doing this, the drill bit will bite into the fastener and will extract it from the hole. However, if it doesn't then you'll need to move to the next step of using an extractor.
Step 4 – Switch to the extraction bit
Insert the extraction bit into the hole made earlier and start reverse drilling. Make sure not to drill too fast at the beginning. Start to drill very slowly as low as 20 RPM.
Let the broken bolt grab onto the extraction bit and begin coming out of the hole steadily. Patience is the key here and this process has to go slow and gently. Continue drilling slowly until the entire fastener is fully extracted.
Buying Guide – Choose The Best Left-Hand Bits
One positive thing about picking a left-hand drill bit is that there aren't too many options to choose from and there aren't too many features to concern yourself with. Still, we should mention a couple of points to ensure you make an informed decision.
Mind the construction material
It is a known fact that certain metals are more capable of handling stuff than others and are more durable against wear and tear. So it is necessary to look into the construction material.
Never pick HCS construction – unfortunately, many left hand drill bits are made out of High Carbon Steel which is the lowest quality there is. They dull pretty quickly and also break easily while drilling through a fastener.
Go for HSS – a better choice for left hand drill bits is the one made out of High-Speed Steel which stays pretty sharp throughout its uses and is much stronger.
Black-oxide – you can also pick a step up from the regular HSS bits by picking Black-oxide coating HSS bits. This coating makes the bits more resistant to corrosion.
Titanium coating – as the strongest metal on the planet you can opt for titanium-coated HSS bits. Titanium stays sharp longer than non-coated or black oxide-coated bits.
Cobalt – is the ideal material for left-handed drills since it is exceptionally strong and dissipates heat very quickly. You won't have to worry about the bit getting broken inside the fastener while drilling.
Attached cases
It is very helpful for any drill bit set along with left-handed drills ones to come with a case in which you can arrange the bits properly. Besides, added cases also reduce the risk of losing them.
Bit sizes and tips
As for the bit sizes, the majority of the left-hand bits are between 1/16 to 1/2-inch. If you're not a professional, a 5-piece set should do you fine.
And there is also much less to worry about the tips of left-hand bits since most of them are somewhere around a 135-degree angle.
FAQs
Why would you use a left-hand drill bit?
If you find yourself faced with removing a broken fastener, stud, screw, or bolt then the best solution is to use a left hand drill bit. These bits were created since normal power drills don't come with any reverse function.
How to tell if a drill bit is left-handed?
All common drill bits are designed in a way that the flutes are twisted around from right to left in the clockwise direction. Left-hand drill bits on the other hand are threaded in the other way. These bits have flutes in the anticlockwise direction.
Final words
On our list of reviews, we only selected the best left hand drill bits that we could find and all of them are solid choices to add to your toolbox. No matter which one you pick, they will not disappoint you whenever you put them to use.