Brad point drill bit is a specially designed modified twist drill. It has a long sharp point or center point at the end of the bit. This resembles a brad nail and hence the name.
This drill bit is specifically used for wood to create the cleanest and the most accurate hole with minimal splintering and tear-outs.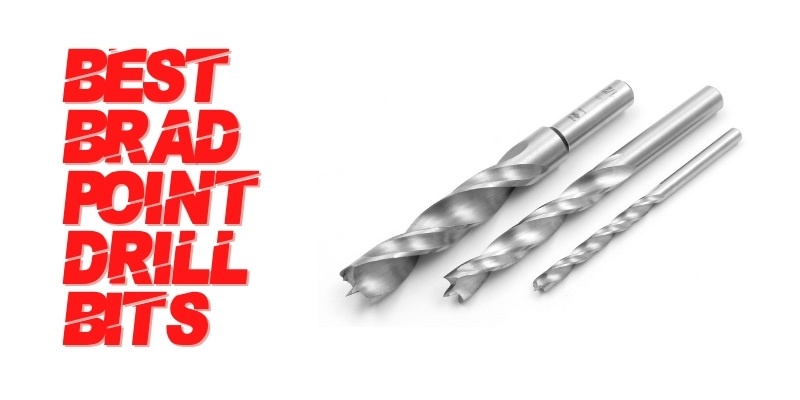 The best brad point drill bits position themselves exactly where you want them to and create a clear and straight hole into hard or softwoods without wandering.
Our Top Picks:
Types of Brad Point Drill Bits
These drill bits are made of various types of materials ranging from softest to hardest. Depending on the wood type you can pick which material will suit you the most.
So as you can see, brad point drill bits are of two types depending on the type of wood they'll work on. The difference between these two types is in the designing of the outlining spurs.
Since the grains in hardwood are tough sharp-edged bits are needed to cut them. That is why you need to use the brad point drill bit type with sharp points for minimal tear-out and no rubbing.
On the other hand, the delicate grains of softwood are prone to tear out if you use aggressive tools. You need to use the bit designed with rounded edges to hold down the end grains while shearing them off.
If you're planning to drill through hardwoods, we'd suggest tungsten carbide-tipped bits and high-speed steel bits since they can tolerate more heat and pressure. You can also use them on metal sheets.
Top 5 Brad Point Drill Bits
We've shortlisted five of the best products available on the market now. Check them out!
1. DEWALT DW1720 Brad Point Bit Set
When it comes to drilling, few come in comparison to DEWALT. This 6 piece brad point drill bit set is a marvelous item for someone who is just getting started with woodworking.
The DW1720 is an outstanding set with functionalities that ranges among all wooden surface types. It has a double flute design that allows the bit to drill through even metal. Besides, the flute design also makes sure that you get the cleanest chipping.
In addition, its brad point tip reduces any walking of the bit giving you a clean cut every time. The sharp tip will provide you with a superb drilling experience for sure.
The pieces of this set include sizes ranging from 1/8- to 1/2-inch. All the pieces are made from top-quality high-speed steel material. This heavy-duty metal makes the bits more durable and able to dig into most surfaces easily.
Pros
Suited for heavy-duty drilling projects
Precise cutting edge
Reduced splintering and clean chipping
Can be fitted in all devices
Cons
Doesn't come in a storage case
2. Fisch FSF-364757 Imperial Brad Point Drill Bits
If you're looking for a professional set of brad point drill bits in imperial sizes then Fisch FSF-364757 could be your best bet. It is a versatile item eligible for making holes in all types of wood from hard to soft, exotic to laminated and veneered.
Most importantly, its accurate diameter, sharpness, and shaft straightness will stun you, if you've got the eye for the good stuff.
Made with chrome-vanadium steel, the individual pieces will give unmatched longevity to the devices. The good news is that its construction material won't even need you to sharp the pieces between projects. Cr-V steel will itself keep the bits sharp for many years to come.
With such remarkable construction also comes unmatched cutting capabilities. Add to that outstanding and efficient design with straight shafts and sharp tip, even acrylic Plexiglas and MDF won't stand a chance in front of these bits.
The cutting edge of these bits is also beveled, which means you'll get clean holes without any deviation every time.
This astounding 29 piece drill bit set also comes in an easy-to-carry-around case with a handle at the top for comfortable carrying and easy storage. With it, you have less risk of losing any one of these bits by accident.
All in all, this amazing product is a great option to pick for any professional woodworker or carpenter. Although it costs a little more than others, still it is worth every penny.
Pros
Cr-V construction for maximum durability
Beveled outer edge gives the cleanest drilling
Excellent performance and precision
Very handy carrying and storage case
Cons
Some of the tabs are prone to slight damage
3. Irwin Tools 49600 5 Piece Brad Point Set
We again come back to smaller sets of brad point drill bits. This 5 piece set from Irwin Tools is a great choice for all wood drilling jobs you can think of. Equally precise in drilling, this set will satisfy your beginner-level needs.
The brad point tips of the bit pieces are sharp and able to provide quite an accurate positioning before starting the hole. However, the point isn't sturdy enough to hold on against anything but wood.
Constructed with alloy steel, the drill bits are strong enough to cut holes into softer woods effortlessly. However, for hardwood, you might have to put some extra pressure fot getting the same result.
The Irwin Tools 49600 includes bit sizes of 3/16″, 1/4″, 5/16″, 3/8″, and 1/2″. Their spurred cutting edge ensures a smooth and clean hole.
But the downside is that they tend to dull quickly. If you remember to sharpen the bits before every use, everything should go smoothly.
The top advantage of these bits is the wide flute design that allows the wood chips to eject effortlessly and continuously.
Pros
A perfect tool for beginner level drilling
Effortless and clean holes on softwoods
Wide flute design ejects chips effortlessly
Cons
4. Peachtree Woodworking 12″ Long Brad Point Bits
Looking for a drill bit to dig a deeper hole? Have a look at this 12" long brad point drill bit set from Peachtree Woodworking.
This 7 piece bit set makes any long work short with a deep opening if you need to align two surfaces. With sizes ranging from 1/8" – ½" these huge bits result in perfect accuracy to make your day.
When you're very strict in sizing the holes up, these amazing pieces will come to the rescue. Speaking of accuracy, each of the bits is precisely engraved so that you get the right size every time.
These bits fit into any drill with chuck-style closure. Their sharp points eliminate any chance of walking or slipping.
Besides, the bits are rust-free due to high steel construction.
Pros
Produces accurate and cleaner results
Engraved size for easy identification
Each of the bits is 12" inches in length for niche users
Sharp tips to eliminate walking
Cons
Blades can become dull over time
5. Dremel 631 Brad Point Bits
Our last pick for the best brad point drill bits is this 4 piece set from Dremel. Made for beginner DIYers looking for working on wooden surfaces, this is a great option.
Dremel is the only set on our list that features Titanium coating that gives it extra strength. The titanium brad points also remain at the center of any drilling process and start drilling as soon as you want.
Read More: Top Self Centering Drill Bits Reviews
This drill bit set comes in 4 pieces with sizes 1/8 inch, 5/32 inch, 3/16 inch, and ¼ inch. Their marvelously engineered flutes ensure that you get a clean cut every time.
The top-quality construction of these bits also makes them extremely durable and ideal for all types of hardwood. You can use these bits in almost all practical daily works like building drawers, cabinets, etc.
Pros
Titanium coated drill bits for extra strength
Can be used in all Dremel rotary tools
Quality construction for durability
Immediate drilling due to strong tip
Cons
Sometimes labeling isn't done properly
Brad Point Drill Bit Buying Guide
As small as they might be, drill bits come with so many features that the amateur eyes will miss noticing. If you are wondering how to pick the best product you should know what to look for before buying one.
Construction Material
The build material of any product dictates its longevity and performance. It is, therefore, a no-brainer that your first choice should be the toughest construction.
And the best construction can only happen with the toughest material. So far we've seen brad point drill bits are made of different materials including high-speed steel, carbide, black oxide, carbon steel, etc.
Of all these, the most commonly used metal used is the Chrome-vanadium and high-speed steel. It is because you can use them for all types of general woodworking and they are quite versatile as well.
But if you want to opt for a cheaper option then high carbon steel is another good material.
Size
By the size of a drill bit, we mean its diameter. If you're a professional or a regular DIYer you'll probably need bits of varying sizes.
The good thing is that drill bits are available in both metric and imperial settings. You can find them either from 3 to 13 mm or from the 1/16" – ½" range.
The Number of Pieces
Another important thing to consider is the number of pieces in the drill bit set you're buying. When you buy a set the number of pieces varies from 4 to 25! If you're a casual beginner a 4 piece set works just fine.
However, a 25 piece brad point drill bit set allows a professional to handle a very wide range of tasks.
No walking
All professional woodworkers and drillers know what this means. When the tip of a drill bit isn't sharp enough it tends to wander and fails to create the perfect hole in the accurate position.
If you find the tip to be sharp then the drilling will become effortless. You'll also appreciate the accuracy and cleanest exit points.
Cutting edges
You want a precise hole during the drilling process and the cutting edge helps you deliver exactly that. The sharpness of the cutting edge creates an accurate hole in wood. The more precise is the cutting edge, the happier you'll be after work.
Deviation
A professional drilling task requires that you avoid any kind of deviation. A proper beveling will help you omit this deviation quite easily. A super-smooth cut will surely boost confidence in your workplace as well.
Optimized spurs
When you want an excellent drilling result you need to check whether the spurs are perfectly optimized or not. It is crucial for making the drill working experience memorable. With optimized spur, you can drill through wood as easily as butter.
Carrying case
Last but not the least, if you happen to buy a brad point drill bit set then having all those pieces organized in a tool case is a plus. Proper organizing increases your productivity and decreases the risk of losing one or more of those bit pieces.
A well-designed case also helps you quickly identify the size of the bit you want to use without wasting much time or effort.
FAQs
What does a brad point bit look like?
Brad point drill bits are designed with a sharp center pin on the top to bore clean holes on hard or soft woods without any wandering. Their edges are quite sharp as well.
What is the advantage of using a brad point drill bit?
The major advantage of the brad point drill bit is that it creates the neatest hole in the wood quickly and accurately. You won't see a brad point bit splintering wood grain on the first contact.
Ordinary bits leave out slight tear-outs and the rough surface upon drilling, while brad points never do that. Their nice and clean edge around the opening eliminates the need for any finish sanding.
Can Brad point drill bits be used on metal?
Brad point drill bits are specially designed for different types of wood and are not quite suitable for drilling metals. The reason is that unlike woods their sharp points cannot be forced to penetrate the hard metal surfaces.
What is special about a brad point drill?
The uniqueness of the brad point drill bit is the sharp pain at the top which bites into the wooden surface and ensures a straight and even hole. This protruding tip enables you to see exactly where to place the bit with no fear of wandering.
Final Words
Drill bits for wood are diverse and brad points are known to deliver the most accurate drilling. However, purchasing the best brad point drill bits can become a challenging task if you don't know exactly what you're looking for.
We sincerely hope this article helped you find the drill bit you were looking for to use in your projects.