When you're working on some DIY projects that use screws, neatness demands that you use countersink drill bits. These specialized bits enable you to make the smoothest finishing even when there are holes in it.
A good finishing touch is extremely important especially for wooden projects. The best countersink drill bits create a 'V' shaped triangular hole over the drilled portion. It helps you to drive the screw head below the surface creating a smooth and clean look.
Mainly used for woods to prevent any tear out or splitting of the wood or on the surface, countersink drill bits help the screw seat flush with the surrounding wood.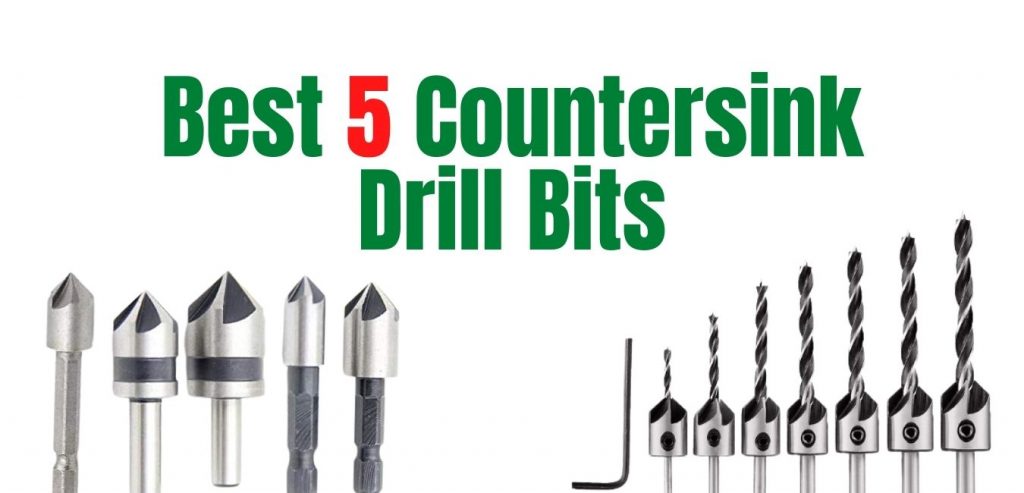 How to use countersink drill bits?
Countersink drilling requires you a bit more work than normal drilling. Here you've to drill twice. The first process involves drilling normally as you'd do for any screw. And the second is the countersink drilling.
Firstly, measure the diameter of the countersink screw's shaft and install a bit with the same diameter onto your drill. Mark the location where you want to make the hole and create a pilot hole with the pointed end of the screw or an awl. This prevents the drill from wandering around on the wood surface.
Next drill a pilot hole corresponding to the size of the screw. You could use painter's tape to mark the depth of the screw. When you're done, drill the countersink hole with a bit same as the size of the screw's head. Drill it deep enough to flush the screw head with the surface.
Top Five Countersink Drill Bits Reviews
Now let's have a look at our top choices for the best drill bit items available on the market.
1. Rocaris Woodworking Chamfer Countersink Drill Bit
If you're a professional looking for a variety of drilling options, Rocaris Chamfer set could be the perfect thing for you. This amazing item features a total of 23 items, all from three different sets based on usage. All of these 23 pieces offer you drilling works that are more than perfect.
First, it features a 6 piece set of 5-flute countersink drill bits. Each has a handle diameter of 1/4″ hex shank. Their polished cutting edge made of high-speed steel is just too good for drilling any piece of extra thick wood.
Then you have a 7 piece set of 3-pointed countersink drill bits. This is what you call an all-in-one countersink drill bit that can drill your surface for the screw and create a countersink as well. These 7 pieces range from 3 to 10 mm size in diameter.
Finally, the 8 piece wood cutting drill set delivers the ultimate punch result. Made from high-quality carbon steel with a 10mm round shank, these wood cutting bits are perfect for repairing damages and hiding screws. They also come in handy for projects that require decorative plugs.
We shouldn't forget 2 more important tools that come with these 3 sets. You'll find a brass-made spring-loaded automatic center punch. This creates a starting point for your drilling job so that the screw or the drill doesn't move around. And the final 23rd piece is the L-shaped wrench to tighten the screws.
Pros
Complete 23 piece package for professionals
Carbon and high-speed steel made with titanium coating
Precise and sharp cutting will all tools
Cons
The titanium coating tends to wear off sooner than expected
2. IRWIN Countersink Drill Bit Set for Metal
If you need a long-lasting drill bit that will serve your duties for many years then IRWIN could be a suitable option for you. Made of industrial-grade High-speed steel (HSS), it is the most durable item among all on our list.
This 5-piece countersink drill bit set comes in a neatly packaged box or a carrying case. The design of the box is neat and made of sturdy material. Each of the drill bits has its slot of storage.
The drill bit has a 5 flute design making it convenient to use ensuring a smoother operation. It also causes less vibration while drilling. Featuring a black oxide finish that resists rusting, this countersink drill bit set offers you better durability even if used daily.
Works well on both soft and hard surfaces alike, IRWIN is the perfect countersinking item you can wish for. The 82° sharp pointed tips are sure to power through even metallic surfaces along with wood and plastic.
Its 1/4-inch round shank makes the bit a perfect option to be used for both handheld and stationary drills for amateurs and professionals alike.
Pros
Industrial grade HSS steel made with black oxide finish
Works on metallic surfaces along with wood and plastic
Five flute design decreases vibration
Comes in a neat and sturdy box
Cons
Drilling slows down on stainless steel
3. BOSCH SP515 4 Piece Countersink Drill Bit Set
This countersink drill bit set is the choice you'd want to make when your job entails putting together quickly without having the level of the screw with the surface. All four pieces are designed for making holes with utmost precision.
These drill bits will provide you counterboring and countersinking in the same operation. You'll only notice clean pilot holes on the surface along with the perfect countersink hole for the screw to hide.
The pilot bits in these drill bits are adjustable. You can change the length of these bits with the given Allen wrench. This allows for the setting of screws flush with or below the surface resulting in precise woodwork.
You don't have to worry about slippage since the hex shanks are designed to reduce any kind of slippage. They can fit in all types of drills; corded or cordless.
Always building high-quality items, Bosch's 4 piece countersink drill bit set could be exactly what you need for your works.
Pros
Adjustable pilot drill bit length
Anti-slippage hex shank design
The drill bits are replaceable
Cons
Doesn't come with any box or storage
4. DEWALT Countersink Drill Bit Set DW2535
As a company, DEWALT has been making many handy tools for professionals as well as DIYers. This three-piece countersink drill bit set is one of those items.
Featuring three different sizes of the #6, #8, and #10, this set offers you a great combination for most of your screw jobs. Besides most DIYers are seen to frequently looking for these sizes as well.
It is a perfect set if you're a beginner since you get the most needed bits in a single set.
This drill set is probably the safest option to pick at the beginning since it is mostly used for wooden and lumber items.
Although you could use it for plywood and laminate with care, be careful not to overheat it by applying over metal surfaces. These DEWALT drill bits are not so strong to be used on them and they'll break.
The best feature of these three-piece drill bits is the excellent and robust locking system with a four-flute design. In addition, the hex shank won't slip off easily either. This will make your fixing chores quite convenient.
However, the selling point of this set is the smooth finishing with a tapered design. This gives the bits better speed and makes it easy to work on different surfaces.
Pros
Excellent locking mechanism to prevent slippage
Polished surface with tapered design provides better speed
The perfect tool for beginners
Cons
Not suitable for metal or hard surfaces
5. COMOWARE Countersink Drill Bits Set
This is by far the easiest of drill bits to use. COMOWARE brings you this 7 piece drill bit set for the best woodworking experience. Its five flute combination along with Hex Key gives you ultimate convenience.
Adjusting and disassembling the bits is easy. Just use the hex key wrench to change the length of the pilot drill bits for the perfect countersink depth. You could choose any project for drilling, be it plastic or particleboard or wood, COMOWARE handles them all.
The brilliant five-edged chamfer design helps you drill fast and also helps to discharge the chips from the hole. In addition, the set has three pointed bits to create a smoother hole
This carbon steel-made countersink drill bit set also has good durability. Care must be taken for thinner bids than the thicker ones. However, these bits cut through softwood very nicely.
Pros
High hardness with solid carbon steel construction
Three pointed bit design creates a smoother hole
The pilot bits are adjustable and removable
Five edged chamber design assist in fast drilling
Cons
The base is round and can cause slippage
How to Choose The Best Countersink Drill Bits
While buying the best countersink drill bit you'll need to consider few things so that your money doesn't go to waste.
Material
It is known that all drill bits are made of some form of metal. There is a wide variety of metals to choose from and each type has its finishing and each has its ideal for a particular purpose. The materials with which countersink drill bits get made are:
Carbon Steel – although ideal for drilling wood, they tend to heat up fast.
Cobalt – this is the hardest, strongest, and most durable of all drill types. Ideal for drilling through metals like stainless steel or aluminum etc.
HHS (High-Speed Steel) – a better version of carbon steel drill bits, HHS can endure more heat and be used for drilling fiberglass, PVC, etc.HHS Titanium – it is an improved version of HHS where the drill bit is coated with titanium nitride. Since it is only a coating, the toughness tends to wear out after lots of use.
Shank design
The shank of a drill bit is the part that fits inside the drill. It has a great impact on the functioning of the bit. Because it facilitates the grip which is necessary for the accurate drilling experience.
When you want to drill tough material the bit must have enhanced grip. Regular shanks usually have the same size as the diameter of the bit. Some fancier ones have smaller shanks to provide the convenience of using the same tool.
Screw Size Compatibility
The drill bit must be perfectly compatible with the screw you own. Usually, screw sizes range between #0 to #14 and more. If the drilled hole doesn't fit the screw perfectly, it will become loose or too tight.
Types
There are different types of countersink drill bits. Of them, standard bits have a cone-shaped tip with cutting flutes extending down to the sides.
On the other hand, the cross-hole countersink drill bit doesn't have any flutes. Instead, they have a hole piercing through their head at a 45° angle. It can remove waste more efficiently than regular fluted bits.
There is another type known as the all-in-one countersink drill bit with a hole in the middle. You can attach a pilot hole drill bit to it. With it, you can drill the initial hole with countersinking at the same time. All-in-ones are used for soft materials like wood.
FAQ on Countersink Drill Bits
What is the most commonly used countersink tool angle?
Although countersinks' common chamfer angles are 60°, 82°, 90°, 100°, 110°, and 120°, the most commonly used by professionals and DIYers are the angles 82° and 90°. And of these two 82° can be used on most projects.
What is the difference between a countersink and a counterbore?
Sometimes used interchangeably, the main difference between countersink and counterbore is in the shape of the bottom of the hole. The countersink hole is angular or conical and ensures that flat head screws sit flush to the surface.
On the other hand, counterbore holes are enlarged with a flat bottom. This is used for socket head screws.
How do I know what size countersink bit to get?
The countersink bit has to have the same diameter as the countersink screw's head. In other words, the bit has to be larger than the bolt size of the hole. You can measure the countersink's diameter by multiplying the bolt size hole's diameter by 1.5.
Final words
Perfectly fitted countersink screws give any screw-fitted thing a flawless look. That's why you need to use the best countersink drill bits. Hopefully, our extensive reviews and buying guide will help you make an informed decision in getting a quality item that would last a lifetime.